Cada proceso y detalle están orientados a la satisfacción de nuestros clientes.
Each process and detail is oriented to the satisfaction of our customers.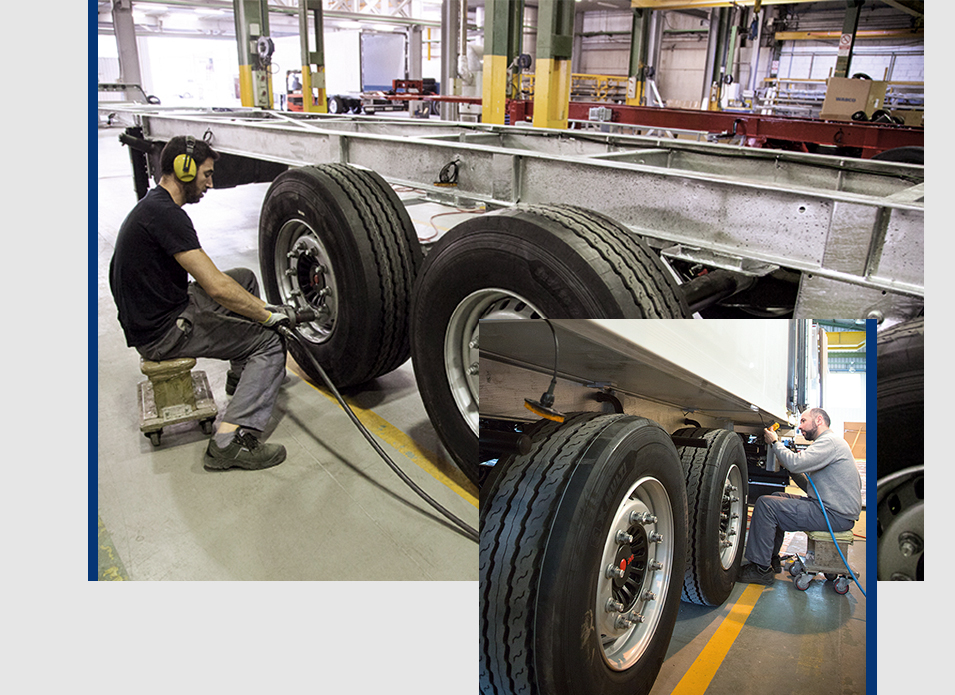 Le ofrecemos la calidad y el servicio de una gran marca por excelencia.

Hemos unido experiencia y tecnología para ofertarles el mejor producto.

Somos especialistas en vehículos para el trasporte frigorífico a muy baja temperatura.
We offer you the quality and service of a great brand par excellence.

We have combined expertise and technology to offer you the best product.

We specialize in refrigeration vehicles at very low temperature.
Construcción del Bastidor

Vigas IP enteras de fundición
efuerzo tirantes en diagonal
Building the Chassis

IP smelting beams one piece
einforcing strength hangers
INDETrUCK S.L,
---
El bastidor de acero de los semirremolques de Indetruck se construye en acero con vigas IP enteras de fundición, de gran robustez y flexibilidad, que recuperan su posición original sin sufrir deformaciones tras ser sometidas a las tensiones de la carretera.
Estudios realizados al respecto demuestran que este material, al salir de fundición de una sola pieza, mejora su respuesta frente a las estructuras construidas con pletinas soldadas. Las vigas de acero enteras de fundición permiten al bastidor soportar mejor las toneladas de peso a transportar a lo largo de centenares de miles de kilómetros, millones de curvas e irregularidades del asfalto.
INDETrUCK S.L,
---
The steel frame of the Indetruck semitrailers is constructed of steel with integral IP beams of cast iron, of great robustness and flexibility, that recover their original position without suffering deformations after being subjected to the tensions of the road.
Studies carried out in this regard show that this material, when leaving one-piece cast iron, improves its response to structures built with welded strips. The whole cast steel beams allow the frame to better withstand the tons of weight to be transported over hundreds of thousands of kilometers, millions of curves and asphalt irregularities.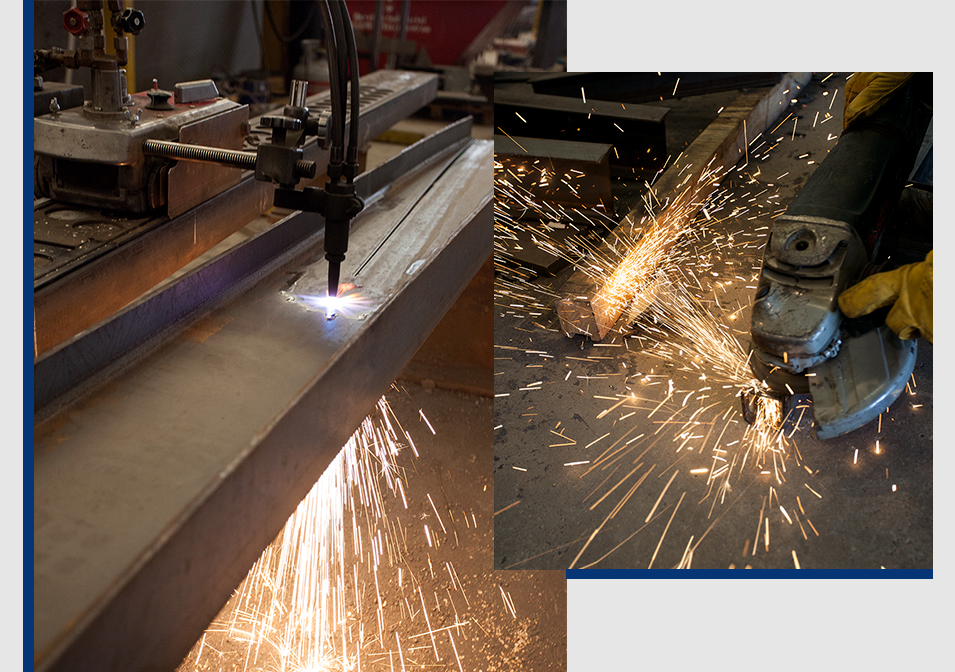 Proceso de Galvanizado
Galvanizado en caliente
Capa de 5 micras de cinc
Protección diez veces superior a la pintura
A prueba de salpicaduras de sal
Galvanizing Process
Hot-dip galvanized
Layer of zinc 5 micron
Protection ten times over paint
Splashes of salt proof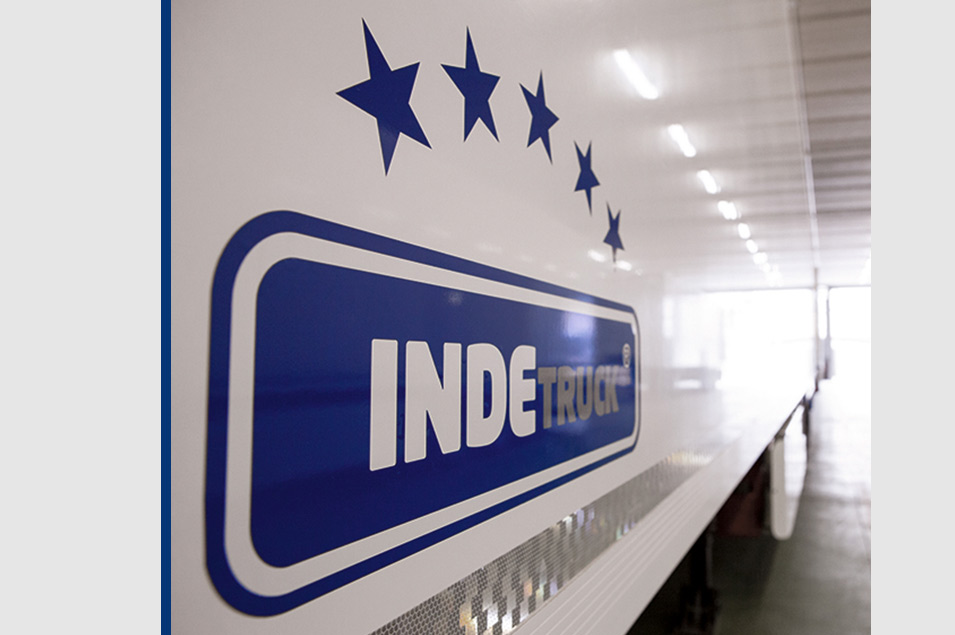 BASTIDOrES GALVANIZADOS EN CALIENTE
---
Todos los bastidores de los semirremolques Indetruck se galvanizan en caliente para protegerlos de las agresiones externas.
La capa de cinc que lo cubrirá es diez veces más efectiva que la mejor capa de pintura, por lo que alarga su vida útil favoreciendo la amortización de la inversión.
El galvanizado en caliente empieza con una primera inmersión del bastidor en una balsa de desengrasante que lo limpiará de impurezas. Al ser una solución alcalina debe someterse a continuación a un enjuague total en agua. Posteriormente se sumerge en una tercera balsa donde se decapa el acero con ácido clorhídrico antes de recibir el galvanizado.
HOT-dip GALVANIZED CHASSIS
---
All chassis of the Indetruck semi-trailers are hot-dip galvanized to protect them from external aggressions.
The zinc layer that will cover it is ten times more effective than the best coat of paint, thus extending its shelf life by favoring the amortization of the investment.
Hot galvanizing begins with a first immersion of the frame in a degassing raft that will clean it of impurities. As it is an alkaline solution it must then be subjected to a total rinse in water. Subsequently it is immersed in a third raft where the steel is flaked with hydrochloric acid before receiving the galvanized.
Montaje del Chasis
Trasera independiente
Sistema antirroturas de conexiones
Centralita WABCO de última generación
Servicio de monitorización
ABS, EBS y sistema antivuelco
Tecnología LED
Chassis Assembly
Free back
Antibrooming system proof
WABCO last generation set
Monitor service
ABS, EBS and antidump system
LED technology
LOS SEMI-rEMOLQUES INDETrUCK PUEDEN MEJOrArSE OPCIONALMENTE
---
El bastidor es la base sobre la que se completa el chasis.
La trasera de los semirremolques Indetruck es independiente en previsión de poder ser sustituida en caso de colisión, sin que afecte al bastidor. Tras su colocación se instalan los pies de apoyo para continuar el montaje.
Seguidamente se fijan los ejes que se alinean con gran precisión y se voltea el chasis para seguir con la instalación eléctrica y neumática. Se conectan los grupos ópticos traseros de tecnología led y la centralita electrónica WABCO de última generación que gestionará los frenos, su sistema antibloqueo, EBS y sistema antivuelco.
the INDETrUCK SEMI-TrAILErS CAN BE IMPrOVED OPTIONALLY
---
The frame is the base on which the chassis is completed.
The rear of the Indetruck semi-trailers is independent in anticipation of being replaced in the event of a collision, without affecting the frame. After installation, the support feet are installed to continue the assembly.
The axes that are aligned with high precision are then fixed and the chassis is turned to continue with the electrical and pneumatic installation. It connects the rear optical groups of led technology and the state-of-the-art WABCO electronic control unit that will manage the brakes, its anti-lock system, EBS and anti-tip system.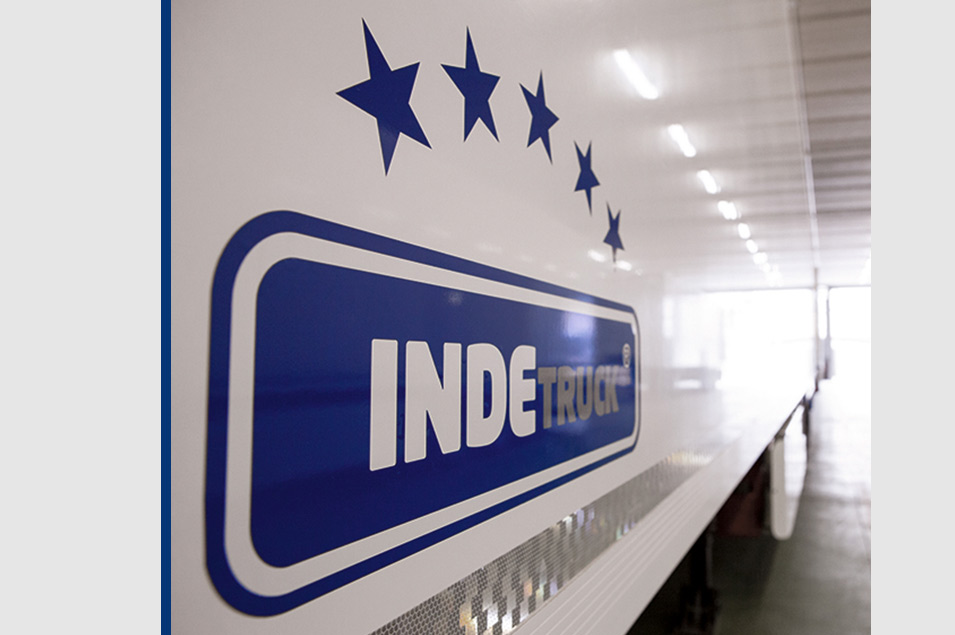 El Cajón Frigorífico
Poliuretano encapsulado en madera
Techo con grosor extra
Bandas interiores convectoras
efuerzo en suelo de boca de carga
esina especial oscurecida
educción del consumo y optimización del frío
Puerta con doble arco
The Cooling Box
Polyurethane encapsulated in wood li>
Ceiling with extra thickness
Convective inner bands
einforcement on cargo floor
Darkened special resin
eduction of consumption and optimization of the cold
Double arched door
MONTAJE DEL CAJÓN rEFrIGErADO
---
Simultáneamente al montaje del chasis, empieza el del cajón refrigerado. El suelo se construye sobre una superficie laminada de madera. Su baja transmisión de térmica contribuye a mantener la temperatura interior a conveniencia.
La base se refuerza con nervios de madera entre los que se colocará el poliuretano, que conserva el frío, y que será encapsulado con otra capa de madera, como si fuera un largo cajón, para preservar sus cualidades aislantes. Por abajo, una capa de poliéster protegerá eficazmente a la ligera y flexible madera, mientras que por arriba su interior se acaba con poliéster y sílice o con una lámina de aluminio.
rEFrIGErATED CASE ASSEMBLY
---
Simultaneously with the chassis assembly, the case starts too. The floor is built on a laminated wooden surface. Its low thermal transmission contributes to maintain the interior temperature at convenience.
The base is reinforced with wooden nerves between which will be placed the polyurethane, which preserves the cold, and which will be encapsulated with another layer of wood, as if it were a long case, to preserve their insulating qualities. At the bottom, a layer of polyester will effectively protect the light and flexible wood, while the interior is finished with polyester and silica or with an aluminum foil.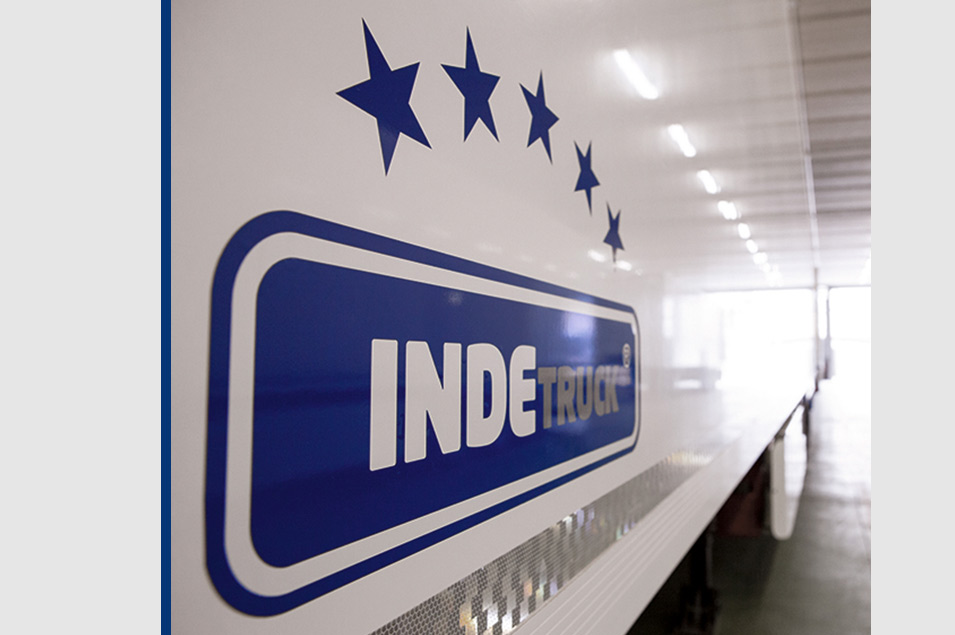 Ensamblado del Semirremolque
El semirremolque ofrece un funcionamiento eficiente
Sistema de anclaje que confiere flexibilidad y robustez
Opciones de personalizacíon por el cliente
elación calidad-precio de los vehículos de Indetruck excelente debido a su fiabilidad
Ensamblado del Semirremolque
Semitrailer can offer an efficient running
The anchoring system confers to the conjunct flexibility and sturdiness
Options required by the customer
The quality-price relation of the Indetruck vehicles is excellent due to its reliability
ENSAMBLADO DE PrECISIÓN
---
Los semirremolques de Indetruck cuentan con 34 puntos de anclaje compuestos por una pletina de aluminio, un tornillo de gran calibre y polímeros de gran adherencia.
El sistema de anclaje a las vigas de acero del chasis triplica el umbral de seguridad aún con la máxima carga permitida, al tiempo que le confiere al conjunto robustez y flexibilidad.
Los últimos retoques de acabado se refieren a la colocación de pilotos laterales, bandas reflectantes y resto de elementos externos. El semirremolque está listo para conocer el asfalto, el escenario natural para el que se ha construido.
PrECISION ASSEMBLY
---
The Indetruck semi-trailers have 34 anchoring points made up of an aluminum plate, a large caliper screw and high adhesion polymers.
The chassis steel girder anchorage system triples the safety threshold even at the maximum allowable load, while giving the system robustness and flexibility.
Finishing finishing touches refer to the placement of side pilots, reflective bands and other external elements. The semi-trailer is ready to see the asphalt, the natural setting for which it has been built.